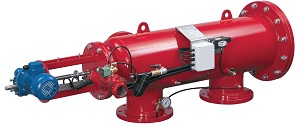 Applications
All filtration purposes up to 400m³/hr
Specifications
2" to 10" Versions
Filtration area from 1500 cm² to 6000 cm²
Rated up to 10 Bar.  4500 & 6000 series available in 16 Bar upon request.  
Four-layer Weave Wire Stainless Steel 316L or Molded Weave Wire Stainless Steel 316L screen types available.
Features and Benefits
Electric motor driven self-cleaning mechanism.
Automatic flushing according to time and/or pressure differential.
Sophisticated, yet easy to operate and maintain.
No interruption to downstream flow during flushing process.
Short flushing cycle of up to 40 seconds
Limited amount of "dumped" water during flushing cycle, up to 280 Litres at 2Bar.
Please be sure to consult us when considering filtration requirements for your system, as flows indicated are those achieved under factory testing conditions.  Filter performance will be affected by the quality of the water source the unit is being applied to.