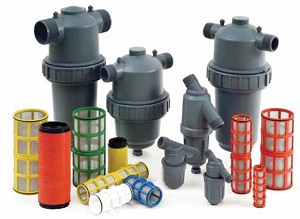 Applications
Irrigation filtration purposes up to 50m³/hr
Usually considered for SECONDARY filtration with the 130 Micron Screen range
Specifications
3/4" to 3" Versions
Rated up to 8 Bar
Interchangeable filters element types ranging from 300 to 80 micron.
Disc of Screen element compatible (exc. 3/4" and 1" which are screen only)
Features and Benefits
Amiad plastic filters are available with a range of different elements to suit different irrigation filtering requirements.  Please consult us in this regard.
Filter bodies made from a range of different plastic materials (size specific) that can be suited for mechanical strength, durability and ease of installation.
Filter bodies are easy to dismantle by hand without the need for tools.  Filter elements can be removed from housing for manual cleaning.
TAGLINE range is easy to maintain:  no tools are needed for extracting the filter element from the housing.
Please be sure to consult us when considering filtration requirements for your system, as flows indicated are those achieved under factory testing conditions.  Filter performance will be affected by the quality of the water source the unit is being applied to. 
Click here for the Amiad Tagline Filters Data Sheet