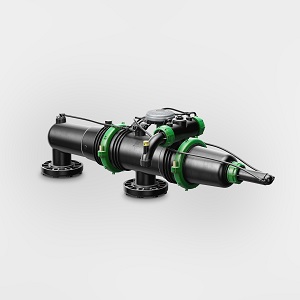 Applications
All filtration purposes up to 80m³/hr (dependent on water quality & filter size)
Specifications
2" to 4" Versions
Online and Angle versions available (main picture depicts online version)
Filtration area from 1200 cm² to 2400 cm²
Rated up to 8 Bar.  
Molded Weave Wire Stainless Steel 316L screen type.
Features and Benefits
New ADI-P Bluetooth controller
Light weight.
Low flushing flow rate requirement
Vertical or horizontal placement
Modular to suit any angle of inlet/outlet
Automatic flushing according to time and/or pressure differential.
Sophisticated, yet easy to operate and maintain.
No interruption to downstream flow during flushing process.
Short flushing cycle of up to 10 seconds
Limited amount of "dumped" water during flushing cycle, up to 28 Litres.
Click here for the Amiad Mini Sigma Data Sheet
Please be sure to consult us when considering filtration requirements for your system, as flows indicated are those achieved under factory testing conditions.  Filter performance will be affected by the quality of the water source the unit is being applied to.